EMCON
The EmCon5 is a lean-burn emission controller for gas engine co-generation units. It is designed to control the exhaust gas emission levels based on indirect measurements. Simply three input signals are required for the control purpose: manifold inlet pressure and temperature and engine load. A CH4 input signal is optional. Use of an oxygen sensor is not required.
Following initial measurements of the engine emission levels and successful analysis, the EmCon5 guarantees optimal operation of the gas engine at the predefined emission limits.
All controller parameters are freely programmable. The adjustments and modifications are made via the computer-program "WinScope". The EmCon5 fits perfectly with the VariFuel2 and VariFuel2+ air/gas mixer series.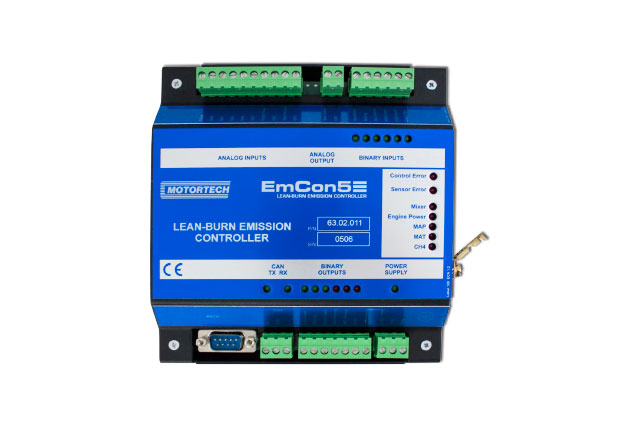 Standardized system available

Operates without oxygen sensor

Two gas qualities programmable

Easy to use

Available with complete sensor harness (optional)

Data logging

Flexible control for reliable operation with biogas

For MWM® TCG 2016 V08 C, V12 C and V16 C Gas Engines
The VariFuel2-TEM air/gas mixer is based on the proven design of the VariFuel2 series and is specially designed for use with MWM® gas engines. Designed as a replacement and plug-and-play solution for the gas mixers used on the TCG 2016 series, the VariFuel2-TEM easily fits into the existing engine structure without any mechanical modifications.
In addition to full compatibility, both mechanically and in connection with existing TEM controllers, the VariFuel2-TEM contributes to an improvement of the starting behavior and mixture control via its variable fuel ring and enables low-maintenance operation over a long period of time.
MOTORTECH´s VariFuel2 is a high-tech variable Venturi type air/gas mixer that can constantly adjust to any fuel changes and allows the engine to operate at its most efficient point. Series 100, 140, 200, 250, 300 and 350 are available for engines with an air requirement up to 12,000 m3/h. Coupled to an air/fuel ratio controller, lean-burn or stoichiometric, it precisely regulates the mixture. The VariFuel2 is very popular for applications with constant changes in calorific value of fuel.
VariFuel2 air/gas mixers are equipped with a high precision stepper motor which is extremely precisely actuated by the VariStep3 stepper motor driver. Different flow bodies and variable gas inlet and mixture outlet configurations allow flexible adaptation of the gas mixer to the respective application.
Varifuel2 and VariFuel2+ air/gas mixers are suitable for a wide range of gas types:
Natural gas

Biogas

Landfill gas

Sewage gas

Wood gas

Wellhead gas

Mine gas
 

The stepper motor driver developed by MOTORTECH guarantees the ideal control of the various types of MOTORTECH VariFuel2 and VariFuel2+ air/gas mixers and ITB throttle bodies with integrated stepper motor.

Features

Precise mixer and throttle adjustment due to microstep operation

Very fast response times

Increased power output provides high torque and quick movement even when driving big stepper motors

Accelerated reference run

LEDs displaying unit status and activity

Combination of several units without signal amplifier/splitter

Integrated CANopen and Modbus RTU interface

Configuration via MICT software

Error data logging for improved diagnostic options

Compact design

Plug-in terminals

Easy access to connectors and switches

Switch board installation on DIN rail